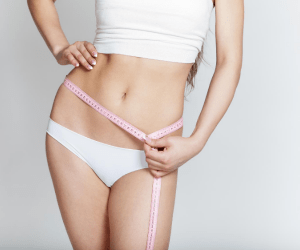 The core (or midsection) of the body needs a lot of attention, and for good reason. Building strength and losing fat in this area can help improve balance, stability, posture, and reduce the risk of back problems. However, the midsection is also where we hold a lot of diet- and exercise-resistant fat. To help achieve the goal of a slimmer waist and flatter abdomen, Smart Lipo 360 is a procedure that works wonders.
What Is Smart Lipo 360?
Smart Lipo 360 is a comprehensive liposuction procedure for the midsection of the body. It includes the abdomen, flanks (or love handles), and lower back areas. By completing this procedure 360 degrees around, you can create a more natural-looking, balanced appearance. Also, it eliminates unwanted fat in the waist and accentuates other curves (such as the buttocks). Smart Lipo, also known as Laser Liposuction, is a minimally-invasive procedure that melts away fat using innovative laser technology. Heat from the Smartlipo® laser stimulates the growth of collagen, which also tightens the skin.
The term "Lipo 360" is also used to generically describe the areas the liposuction procedure treats. Lipo 360 doesn't refer to a specific type of device or equipment.
How Does Smart Lipo 360 Work?
To make you feel comfortable during the Lipo 360 procedure, the treatment area is infused with a saline solution containing a local anesthetic. Then, a very small 1-3 mm incision (the size of a freckle) is made in the skin. A tiny cannula (tube) containing a fiber is inserted directly into the fat cells. The laser energy emitted causes the fat cells to burst. Then, the liquified fat is gently suctioned out of the body. Once the swelling goes down, you may start to see results within 1 week. Full results are expected within 4-6 months when the skin reaches optimal tightening.
Are You a Candidate for Laser Lipo 360?
The ideal candidate for Smart Lipo 360 is at or below a body mass index (BMI) of 30 and looking to target common "problem" areas. According to the American Academy for Cosmetic Surgery, liposuction is not a solution for weight loss and should complement a healthy lifestyle. Although Smart Lipo 360 can produce dramatic results, you and your surgeon should discuss realistic expectations for your situation.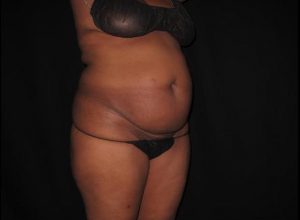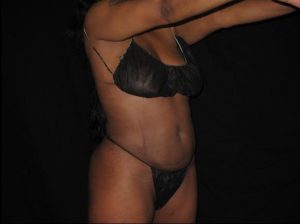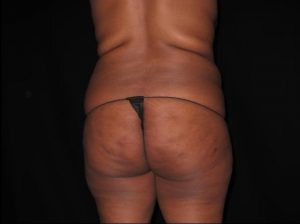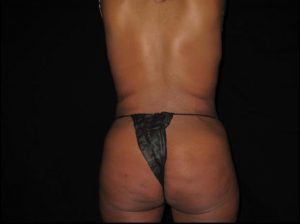 Before and after (one-month post-op) images of a Smart Lipo 360 and Brazilian Butt Lift procedures at The Lumen Center in Bryn Mawr, PA.
How Long Is the Recovery?
Since Smart Lipo 360 is a minimally invasive procedure, recovery time and downtime are usually short, around 3-4 days. The heat from the laser results in less bleeding, swelling, and bruising. This means healing is faster, plus there are no stitches. A compression garment will need to be worn for 1-4 weeks following your procedure. You will receive specific post-op instructions and follow-up appointments help give you the best results and heal quickly.
Ready to Get the Curves You've Always Wanted?
By treating the front, back, and sides of the body with Lipo 360, you can achieve maximal contouring and a curvier shape. For more information, view our Patient's Guide to Smart Lipo 360. Or, take the first step and schedule a free consultation for laser liposuction in Philadelphia at The Lumen Center. Dr. Andrew Kwak will discuss your goals and answer all of your questions. Contact us today or call us at 610.525.0606.